Pakistan's trade with Taliban-controlled Afghanistan during the late 90s and the early 2000s was negligible. Since the deployment of NATO forces in Afghanistan, Pakistan's exports to its neighbor spiked, peaking in 2011 at 2.6 billion dollars. Unfortunately, since then exports have registered a consistent decline, falling to 1.37 billion dollars in 2016.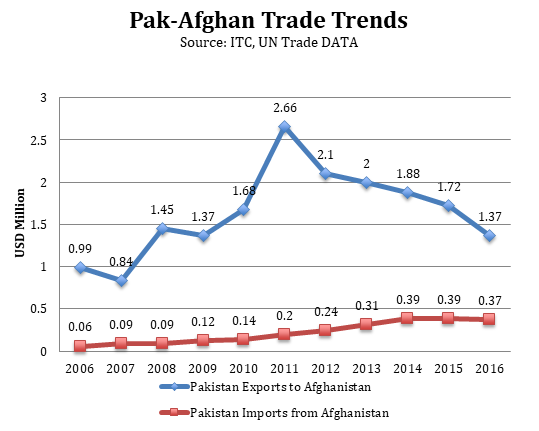 The recent decline can partly be explained by the drawdown of NATO forces from the region, and partly by Pakistan's own policies with regards to its neighbor. A look at Afghanistan's trade with its regional partners in the figure below provides evidence for this trend: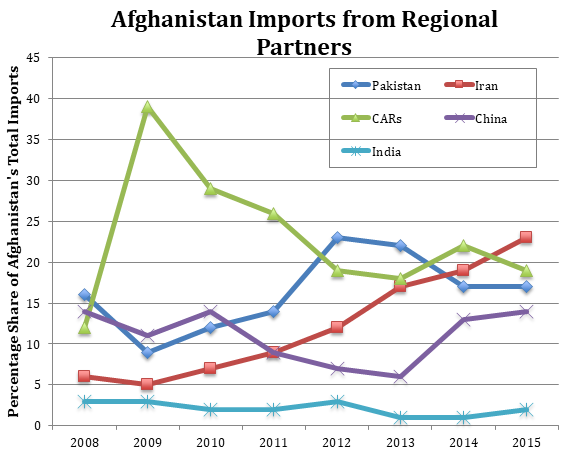 The graph shows that as Afghanistan's imports from the Central Asian Republics (CARs) decreased from their peak in 2009, imports from Pakistan and Iran started increasing. Then after 2012, imports from Pakistan also started decreasing, while those from Iran continued to rise. Afghanistan's imports from China have gone up in that period as well. The increase from other regional trading partners has occurred despite the fact that, Pakistan's trade route is the most direct and cheapest to Afghanistan. Furthermore, a large segment of Pakistan's population shares a common language with Afghanistan, and most of the traders and transporters going to Afghanistan belong to bordering tribes who carry shared cultural practices and a deep understanding of the regional market. A recent study conducted by Salamat Ali in the context of Pakistan, shows that having a common language with a trading partner helps promote trade with that country.
The key message here is that despite these favorable circumstances, Pakistan's exports to Afghanistan have started declining. The bulk of this fall was in export of petroleum products. In 2011 Pakistan's petroleum products exports to Afghanistan stood at over USD 760 million. In 2015 these figures fell to USD 54 million. On the other hand Iran's petroleum products exports to Afghanistan that year stood at USD 102 million but then rose to USD 821 million by 2015. While Pakistan continues to be a major source of edibles for Afghanistan, there are a number of other commodities that can be exported. However, that space is largely filled by Iran or China at the moment. For example, goods produced in Pakistan such as construction materials including cement, plastics, iron and steel are increasingly imported from Iran while textiles are being imported from China.
On the Afghan side, Pakistan continues to be Afghanistan's largest export destination, but is increasingly facing stiff competition from India. The graph below shows Afghanistan's exports to partners in the region: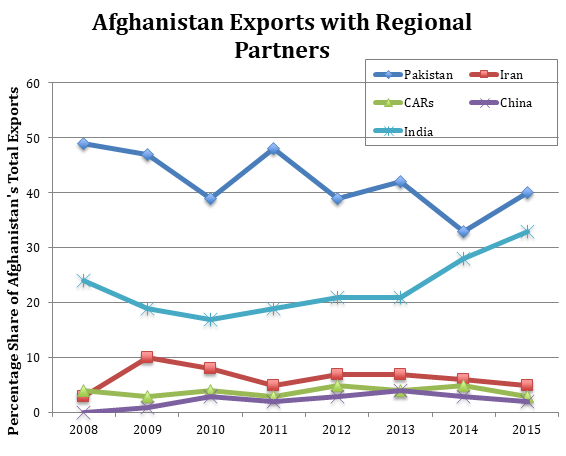 The graph above shows that although Pakistan remains the main destination for Afghan exports, its share has fallen from about 50 percent to 40 percent from 2008 to 2015. On the other hand, India's share in Afghan exports stood at about 25 percent in 2008 and has gone on to rise to about 35 percent by 2015.
Overall Afghanistan's pattern of trade summarized above suggests that Pakistan is losing out on key export opportunities with its neighbor, and that Afghanistan as a whole is becoming less dependent on Pakistan for trade. Pakistan has long seen Afghanistan through the prism of national security and that alone has dictated relations between the two countries. This has often meant that Pakistan's first response to increased tensions with Afghanistan has been to close the border with little regard for the damage it does to economic relations. Similarly, there is a very strict and excessive checking regime for goods entering and leaving Pakistan from Afghanistan or for transit trade purposes at the Karachi port. This has made Pakistan an unreliable trading partner. This is especially problematic since the main commodities being exported from both sides of the border are perishable goods mostly being transported by an unrefrigerated trucking fleet. This has not only taken a toll on goods being exported directly from Pakistan but even on transit trade coming through Pakistan. According to transporters in Pakistan, Iran is increasingly being used as a preferred option for transit trade to Afghanistan as well.

In recent months, some encouraging steps have taken place in the shape of improved customs facilities at Pak-Afghan borders in Torkham and Chamman. However, in order to reverse the trend and expand its exports, Pakistan needs a paradigm shift in how it perceives its neighbor. Increasing commerce, which will benefit producers and consumers in both countries, can lay the groundwork for stable bilateral relations, and help in increased cooperation on other issues as well.
Ghazan Jamal is a Country Economist at the International Growth Centre (IGC).