Target 5.4 under SDG 5: Gender equality and women's empowerment, encourages recognition and appreciation of unpaid care and domestic work linking it with provision of service delivery, infrastructure and social protection. Inclusion of this as an SDG goals is has been a long-awaited step, as the unpaid care sector remains largely absent in both global and national policy. This is also an important gender equity issue as women around the world spend on average three times more time than men on unpaid care work .
Women's Economic Participation in Pakistan
At 22% (compared to 67.8 for men) , female labour force participation in Pakistan is well below rates for countries with similar income levels . Despite a steady increase in the past decade and a half from a low of 13.7% in 2000, these rates remain the lowest in the world, second only to Afghanistan's.
Female workers in Pakistan are mainly concentrated in the informal sector, at home or in the farm. Of the employed, only 3% work in the formal sector while more than half (54.5%) as contributing family workers. Women also remain essential to the subcontracting system, especially for small enterprises operating out of small workshops or homes. The country has over 12 million home-based workers (HBWs) of which 80% are women and more than 60% unpaid family workers.
Why are we concerned?
An unequal responsibility for unpaid care work constrains women's mobility and time, impeding access to education, healthcare, skills development, technology and financial services. Excessive workload also disables them from participating effectively in social, and economic spaces and they often end up in low-paid, insecure employment.
Evidence that links unpaid care work to women's empowerment is not adequately used to inform public policy. Recognizing, reducing and redistributing unpaid care work are fundamental elements of any policy looking to address this issue . Following are some key reasons for why we should care about this sector.
There is no recognition of the social and economic value of unpaid work: Many women work from home, and contribute significantly to the national economy. Recent estimates suggest women contribute around 36.8% to Pakistan's Gross National Product (GNP) . Yet their work is not legally recognised or protected such as through an equal wage guarantee or social safety net. Female farmers are not acknowledged as 'farmers' neither are home-based workers as 'workers', nor their places of work as workplaces. Women also report wages lower by at least 67% compared to men's and are concentrated in the informal sector.
There is excessive drudgery and time burden of unpaid care for women: Not only do women earn less than men (when their work does not go unrecognised and unremunerated), they are also more 'time-poor'. Accounting for both unpaid care and paid work, women work thrice as many hours as men on average globally and up to 10 times more in Pakistan .
Pakistani women who are not into paid employment still work as much as formally employed men on productive activities . Figure below shows the breakdown of time for employed and non-employed men and women from the 2007 Time Use Survey.
Time Use by Gender and Employment Status: Respondents over 25 Years Old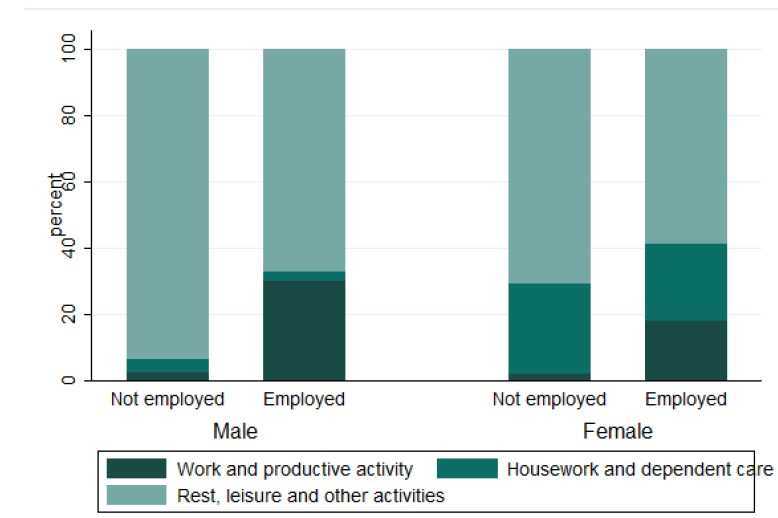 Source: Time Use Survey 2007 (Female Labor Force Participation: Pakistan Country Study for the Asian Development Bank by Erica Field and Kate Vyborny April 28, 2016)
There is unequal distribution of unpaid care work between men and women: Inequalities in the share of unpaid care work are stark in South Asia where women are left to shoulder this workload with little or no social support. Pakistani women spend 4.3 more hours per day (compared to 2 hours on average for developing economies) than men on this . The figure above further shows that not only do women spend more time than men on housework, unemployed men do not take a greater burden of these activities.
In addition to the above factors, preconceived notions about women's primary role as homemakers and lack of supportive facilities such as childcare and women-only transport and accommodation significantly reduces their labour power and occupational choice, pushing women towards informal and casual employment lacking any upward mobility.
What can we do?
It is imperative to accurately estimate the value of unpaid care work – disaggregated at the minimum by gender, region, age group and urban-rural divide – to design appropriate public policy. The last Time Use Survey (TUS) for Pakistan was conducted in 2007. Building an evidence base and counting women's work through a revised round of the TUS is an essential first step. It will also help to reduce under-counting that may arise through other instruments such as the Labor Force Survey (LFS). Even in the less conservative regions of the country, there is a stigma associated with admitting women work. Men often shy away from acknowledging their wife/daughter(s) work.
Other areas for intervention include:
Provision of accessible public services, including care services: Access to clean drinking water, affordable and quality health and education services, electricity for domestic use, improved mobility, reliable crèches can be critical for addressing women's time poverty and enabling them to engage in productive employment. For example, Pakistan has recently launched the Prime Minister's National Health Insurance scheme to issue health cards to all poor families targeted through Benazir Income Support Program, Pakistan's flagship cash transfer program. This program is intended to provide a minimum level of healthcare to Pakistan's poor including women. Ongoing research to understand the impact of investing in public transport on women's economic participation can also help design suitable policies to enhance their urban mobility.
Investment in time and labour-‐saving equipment and infrastructure: Improved sanitation and water and energy supply, rural roads etc. can make unpaid labour more efficient and help arrest time-poverty. For example, provision of reliable water supply close to or at home, can reduce time women spend fetching water – rural women often have to walk up to 2.5 miles each day to access clean water. Use of ICT in service delivery can also save women's time. Examples include transfer of knowledge or information via smartphones such as access to medical reports from labs, extension service for agriculture workers, banking via phone applications. Currently less than 5% Pakistani women have bank accounts. Private sector initiatives such as easypaisa can provide access to efficient financial services while improving inclusion. However, the reality that many women aren't allowed access to a mobile phone by their families serves as a barrier to this and other ICT initiatives achieving gender inclusion.
Provision of decent work for women and men: Flexible working hours, equal wages, maternity benefits, pensions and social security, improved working conditions are essential to ensure women have equal opportunity towards gainful employment. Examples of government initiatives in this regard include the passage of sexual harassment at workplace act in 2010 and more recently the landmark policies to legally recognise home-based workers in Sindh and Punjab. As most working women are in the informal economy, policies to regulate this sector remain critical. Enhancing coverage of social protection to this sector by allowing self-registration can extend benefits to women as will ensuring minimum wage independent of contractual arrangements.
Moving ahead
BISP is already making phenomenal gains for women across multiple dimensions, including empowering them within their household by enabling them as recipients of the cash transfer, providing them access to health insurance, skills training and assets . However, provision of public services, investment in infrastructure and social protection requires financial commitment. To sustain such interventions and expand scope, Pakistan should move closer to its maximum tax capacity. Currently Pakistan's tax-to-GDP ratio is hovering around 12%.
Moreover, recognising the value of unpaid care work will help mobilise fiscal space only if investments in this regard are viewed as investment, not a cost. A recent study in Turkey shows that a dollar of public money invested in the care sector, to relieve burden on women, can create 2.5 times as many jobs as a dollar invested in the construction industry. Public investments in the care economy can create jobs for women, reduce gender inequality, and also support economic growth.
There is a strong evidence base to support family planning interventions for encouraging women's economic participation by directly reducing the burden of childcare. Provisional census results indicate family planning programs in Pakistan have largely failed as population count (at 207.7 million) has exceeded all previous estimates . Birth rates remain high at 22.3 births per 1000 population while the Contraceptive Prevalence Rate (CPR) at 35% is much lower compared to a South Asian average of 53% and 77% for Iran. Reducing the burden of unpaid care work via lower fertility rates will be a significant impact of improving family planning services in Pakistan.
In Pakistan, the distribution of unpaid care work does not adjust in favour of women even as they take on more paid work. Therefore, interventions to address social norms on the distribution of care work remain critical. A recent example from Pakistan is Telenor's Public Service Advertisement that challenges gender norms and stereotypes. While there may be little evidence base on whether these work but they must be tested and supported to address the wider issue.
This article originally featured in Pakistan Poverty Alleviation Fund's (PPAF) magazine called Development Dialogue, Volume 3, Issue 1, March 2018.
Hina Shaikh is a Country Economist at the International Growth Centre (IGC).